Like a break of sunlight through the clouds after a storm, the thought of wearing designer fashion is starting to peak back into the minds of many now that lockdown has lifted. It's a welcome change from an otherwise pajama-themed wardrobe this summer.
But as restrictions start to lift, some Hong Kongers are starting to think more critically about the clothes they buy and the brands who make them.
Covid-19 has been a much-needed awakening for many of us. More than a physical quarantine it's been a 'quarantine of consumption habits.' Spurred by the awareness created on social media of the problematic social and environmental policies of top fashion brands, conscious consumers are looking to support brands that stand for more than just beautiful clothing. 
Emma Wallace is a brand that fits the bill. Her designs are loved by celebrities including Coco Rocha, Rosie Fortescue, and Bip Ling, and have long been celebrated for their blend of Eastern and Western cultures. Now, fans have even more to celebrate.
Emma Wallace is now the latest in a growing movement of A-List designers choosing to offer their pieces through rental. The brand began its transition to a circular model prior to the pandemic, which is why it was well-positioned to amplify its sustainability and charitable commitments when the lockdowns hit. 
Here's how they did it and thrived.
Designing & Donating Masks
Hong Kong has not had to endure severe shortages of personal protective equipment (PPE) but other countries have not fared as well. Emma Wallace saw a clear opportunity to make a global impact when the lockdowns hit the UK. She began an initiative to design and produce fashionable protective face masks to help combat the shortages.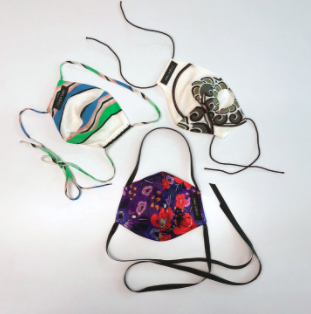 "We are so thankful for the efforts of the medical community around the world in dealing with this pandemic and we wanted to be able to help in some way.  There is a shortage of masks in the UK so we used our resources to produce 550 non-surgical face masks to donate to the Merton Mutual Aid, a community of volunteers who work to support vulnerable groups and those in self-isolation.  We hope to produce more masks to continue to help those in need." - Emma Wallace
Hundreds of masks, designed and produced in Hong Kong by Emma Wallace, made their way to Merton Mutual Aid in the UK and were donated to the Royal Marsden NHS Foundation Trust.
Coming from a company that commits to serving the global community, it's no surprise its employees are also passionate volunteers. 
Supporting Employee-Led Initiatives to Give Back
Marika Nanni, a team member at Emma Wallace, is currently on the ground in Thailand volunteering for the Sang Foundation. When she brought awareness to Wallace that local communities were struggling to get by with Covid-19's impact on their economy, she had the brand's full support to utilize its platform to help. Throughout the summer, a portion of sales was donated to the Sang Foundation.
Nanni has since led daily food drives to deliver food to families no longer able to afford them. The food drives started on April 15th, and with the help of supporters like Emma Wallace, the Sang Foundation has fed over 3,500 families and 14,000 people.
Sustainable Fashion Partnership with Style Carousel
The fashion industry was struggling long before Covid-19 hit. With sales down across the board, many tough calls have been made and dozens of brands like J. Crew and Neiman Marcus have even declared bankruptcy while others have been left to deal with excessive unsold inventory. 
Some brands have resorted to over-discounting their pieces to clear the excessive stock, while others have turned to the unsavoury practices of polluting landfills with unsold inventory or incinerating it.
Emma Wallace chose to do something different and instead partnered with Style Carousel to offer shoppers a sustainable alternative to access the brand.
Style Carousel is a new Hong Kong start-up offering online luxury fashion rental subscriptions and one-time clothing, bag, and accessory rentals. It works with luxury fashion brands to combat their excess inventory and utilize them in the sharing economy.
The heart of their mission is to promote slow fashion in Hong Kong and to democratize an otherwise harder to access market. It provides a win-win for brands and women. Brands are able to utilize unsold stock and women benefit from an off-price option that also helps them reduce their carbon footprint and directly combats over-consumption.
Emma Wallace's partnership with Style Carousel ensures that women looking to save money on designer clothing while being mindful of the environment are able to rent their favourite pieces. This comes at the heels of Style Carousel's latest product release called StylePass, whereby women can save on rental fees by committing to a monthly subscription.
Style Carousel is currently offering a free trial of StylePass to encourage women in Hong Kong to give renting a try.
Moving Beyond Surviving to Thriving
In an unexpected way, Covid-19 has given us the opportunity to introspect and critically assess what's important to us when we buy. With a growing sustainable consciousness, Hong Kongers are choosing to support brands that also reflect their personal values. 
Brands like Emma Wallace, who decide to leverage their resources to help those in need, stand with their employees, and plan ahead for a more sustainable future, will be the ones who move beyond surviving to thrive in the years to come. 
If you don't already have an Emma Wallace staple in your closet, it's time to get your hands on one! My personal favourite is the Lange kimono-style blouse, recently worn by fashion influencer Jessica Wong on her trip to Live Zero. Otherwise, consider renting your favourite Emma Wallace styles through Style Carousel's clothing rental service, and get a free month trial when you subscribe to StylePass.
Start booking your favourite Emma Wallace's pieces on Style Carousel today.
About the Author
Mahrukh Tahir, known fondly as 'MT' is the Director of Marketing for Style Carousel. She's an award-winning marketer who has launched multi-million dollar products and helped build multiple start-ups. An avid hiker and painter, when she's not working on Style Carousel, you can catch her planning her next hike near the city or painting up a storm in her apartment.