HOW RENTAL WORKS
Here's a step-by-step guide on how easy it is to rent, wear and return. You can even buy the pieces you've rented and love with just a tap!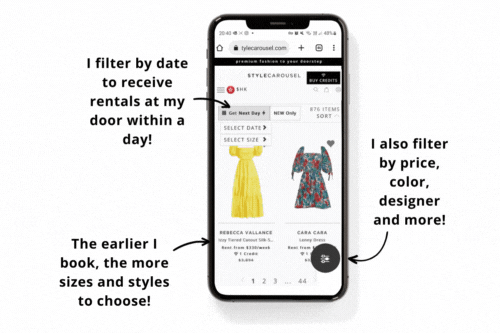 STEP 1 - FILTER DATE + SIZE
Browse the platform! You can filter by rental start date, size, colour and more.
For urgent orders, please tap "
Get
Next Day
" on the top bar to view items in your size that can be delivered same or next working day.
Choose the items and size with the
lightning bolt icon to receive within 1 working day!
STYLE TIP: Need assistance with styling or placing an order tap the chat icon to speak with a stylist.
STEP 2 - CHOOSE YOUR ITEMS
Tap into your desired listing. To rent, select either "1 Week Rental", "2 Week Rental" or "Custom Dates", then tap "SELECT SIZE" to choose your size.
Then, the item's condition will be shown and you may adjust your condition preferences. Only items in new, pristine and excellent condition are available for rent.
STYLE TIP:
Item not in? Save it to your wishlist or tap "Notify Me", it helps merchants know which sizes and styles you like to make available for rental.
STEP 3 - PICK RENTAL DATES
Once you've chosen your size and condition, simply tap "SELECT RENTAL DATE". A calendar will pop up for you to select your rental period. First tap on the day you want your rental to be delivered to your door by and tap a second time on the day you would like your rental period to end.
An email will be sent to you upon checkout and again when the order has been accepted and dispatched!
STYLE TIP:
Track your order's progress anytime by logging in and tapping "ORDER HISTORY"
STEP 4 - ENJOY OR EXCHANGE
Your item will be hand delivered to your door by your chosen rental start date. If you'd like a call from the courier prior to delivery just tap the chat button on the bottom right and let us know.
Wear and enjoy your designer pieces! We take care of all cleaning and repairs from normal wear and tear.
STYLE TIP:
Exchanges are free within 28 days of your initial order's start date! If there are any items that do not fit, simply
reach out to your stylist
 

to exchange or tap the credit refund request link in the dispatch email.
STEP 5 - RETURN YOUR RENTAL
A day before your rental is due, you will receive an email notification to schedule your free return collection. If you'd like to schedule the return of your rental earlier you can always reach out to your stylist, tap the "RETURN" button under your "ORDER HISTORY" in-app
.
Then, re-pack your pieces in our signature canvas tote, and get ready for the courier to pick-up from your door!
STYLE TIP:
Rent before you buy! That's the best way to know if you're really ready to commit to the piece.
WHY GO CIRCULAR WITH STYLE CAROUSEL?